UDS Coverage in DR34lus
The initial DR4 release does not contain any UDS catalogue data.

The UDS covers approximately 0.8 sq. deg. The target field is the Subaru/XMM-Newton Deep Survey (SXDS) field, located at J0218-05.

In DR3 UDS waveband coverage is J, H and K (previous releases were J and K only).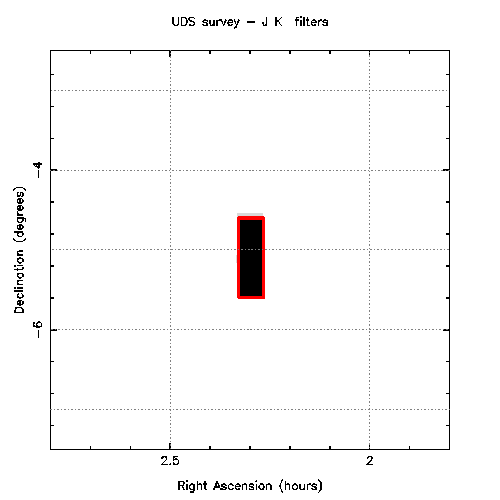 ---
Home | Overview | Browser | Access | Login | Cookbook | nonSurvey
Listing | Region | MenuQuery | FreeSQL
Links | Credits

---
WFAU, Institute for Astronomy,
Royal Observatory, Blackford Hill
Edinburgh, EH9 3HJ, UK

wsa-support@roe.ac.uk
23/4/2015